Running an online business is time consuming. There are so many tasks that you need to tackle day to day.
Thankfully, there are some fantastic tools available to help simplify your efforts and get you the competitive edge you're after.
In this post we'll walk you through ten crucial tools that can make it easier to run your business.
You don't need to start using them all at once, just find the ones that will be most useful to you and work them into your business routine.
Prices in this article are correct at time of publication.
1. Get organised with Trello
There are lots of things you need to take care of when starting an online business and beyond. You need to find a good business name and domain, build your site, promote it, fund your business, get legal advice, and more.
Trello is a collaboration-friendly tasks manager that's crucial for managing your launch, and everything else that you need to make happen afterwards. It's like a white board in the cloud that gives you a visual overview of everything you need to do to get your business up and running, and to keep it running.
You can create and customise your project board so you can see exactly what needs to be done, when and by whom. When it comes to prioritising tasks, you'll find no easier or more affordable tool to help get you organised like Trello.
2. Create your website in no time with Website Builder
Launching a new business and need a website? Or perhaps your existing website needs to be replaced?
Our Website Builder is a great choice for anyone looking to start create a site without needing web design skills. It has stunning, professionally-designed templates that make it easy to customise your site and a drag-and-drop editor to keep things simple.
3. See how well your site is doing with Google Analytics
You need to keep a close eye on your website's visitors and what they're doing while on your site. Google Analytics is a staple for every website as it allows you to track visitors' behaviour on your site and capture valuable information that you can then use to track your marketing efforts and create a better experience for your visitors.
Make sure you install Google Analytics as soon as possible so you immediately get access to these valuable insights and data. Google Analytics is a must have for any site.
4. Improve your chance of ranking with a search engine optimisation tool.
A big part of your online marketing strategy for your online business should be based around search engine optimisation (SEO).
Done right, SEO will help your website get found by potential customers when they type a query related to your business into a search engine.
This guide will help you choose an SEO tool that's right for you.
5. Send better emails with a professional email address
Sending emails from an email address that matches your domain name looks more professional.
The good news is, if you have a domain name or hosting package with 123 Reg, or you use our Website Builder you could have a free professional email address you're not using.
Just head to your Control Panel to get your email set up.
Once you've got a professional email address, you can even start using an email marketing tool to attract subscribers and send them news and special offers.
If your product doesn't include a free email address, you can get a professional email address from 123 Reg for as little as £1.99 a month.
6. Manage your social media presence from a single place with Hootsuite
As an online business, you'll need to be present and engaging with your target audience on the social networks they spend time on. Setting up accounts is easy but managing all the content, replying to comments and monitoring mentions of your brand can eat up a significant chunk of your time.
This is where Hootsuite comes in. This social media management tools lets you manage all your social media from a single platform. Use it to create and schedule posts at times that make sense for your audience, to engage with your fans and followers, and to measure the results to see where there's room for improvement.
7. Create stunning visuals with GoDaddy Studio
If you don't have design skills but want to create your own images for social networks like Facebook and Instagram, GoDaddy Studio is the tool you need. Start by choosing one of the templates available in their collection, add graphics, icons and/or text and you'll have a nicely-designed graphic in no time.
8. Write clearly with Grammarly
You'll be doing a lot of writing if you're a one-person operation. Website content, blog posts, emails, social media posts, you'll have to do it all. But when you juggle multiple tasks, it's easy to make mistakes.
With Grammarly's Chrome plug in, you can get corrections and suggestions as you write your content in Word, in Outlook or on Facebook.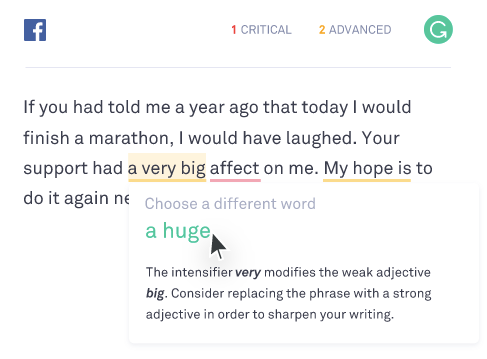 It's a great proofreading tool that'll not only help you to spot and correct grammatical errors and typos but also give you suggestions on how to write more clearly.
9. Be productive no matter where you are with Microsoft 365
When you're running your own online business, work never stops. This means you need the right tools at your disposal to make sure you can do what you need to do, when you need to do it, whether you're at home, in a coffee shop or on your way to meet an investor.
This is where Microsoft 365 comes in. This cloud-based tool provides all the essential Office tools such as Word, Excel, PowerPoint and Outlook, as well as Teams for messaging, video conferencing and OneDrive for storing all your important documents digitally.
10. Take the hassle out of accounting with Quickbooks
An important part of starting and running a successful business is keeping track of your finances. A tool like Quickbooks takes a lot of the hassle out of accounting and you don't need to be an experienced accountant to make the most of it. Whether you're filling in a self-assessment form, or need a more comprehensive accounting solution, Quickbooks can help with that.
You're all set
All these tools can help with running your business. Try them out to see which ones help you work more effectively and efficiently.